Andrew Mackenzie
CPA, CA, CBV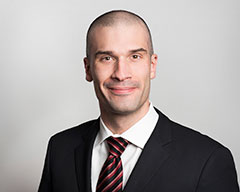 Andrew Mackenzie has been a member of the Chartered Professional Accountants of Canada since 2010. In addition, Andrew obtained his Chartered Business Valuator designation in 2015 from the Canadian Institute of Chartered Business Valuators, and was a silver medalist on the 2015 CBV national exam.
Andrew joined Blair Mackay Mynett in 2014. He specializes in the valuation of public and private companies in the context of matrimonial and shareholder disputes, mergers and acquisitions, corporate reorganizations and estate planning. Andrew has valued companies in a wide variety of industries including e-commerce, manufacturing, transportation, retail, wholesale, hospitality, real estate and energy services.
In addition, Andrew provides various litigation support services, including the quantification of income or economic loss claims and the determination of income available for child and spousal support purposes.
Prior to joining Blair Mackay Mynett, Andrew was employed by a local chartered professional accountant firm where he was responsible for providing valuation, assurance and tax services.
To contact Andrew, please call 604-697-5242 or email andrew@bmmvaluations.com.